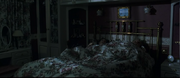 Vernon and Petunia's bedroom was located on the second floor of 4 Privet Drive. It was the largest bedroom in the house, and was where Vernon and Petunia slept.[1] They were awoken from their bedroom in the summer of 1992 by the Flying Ford Anglia tearing the bars off the window.[2]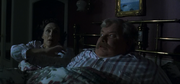 Appearances
Notes and references
Community content is available under
CC-BY-SA
unless otherwise noted.