Wiki Targeted (Entertainment)
Play Sound
The Viaduct was a bridge at Hogwarts Castle. It was constructed of stone, spanned a large chasm, and connected the grounds with the Viaduct Courtyard. There is a safety balustrade made of stone on each side of the Viaduct walkway to prevent people from falling, as well as iron torches to provide lighting.[1]
History
When Newt Scamander and his allies travelled to Hogwarts to meet with Dumbledore, they walked on this bridge when arriving.[2]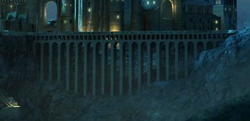 In 1998 during the Battle of Hogwarts, Minerva McGonagall's enchanted suits of armour were stationed on the Viaduct to prevent the Death Eaters to enter the Castle proper. Once the magical protections around Hogwarts were broken, many Death Eaters charged through the Viaduct, as well as the Giants, destroying much of the balustrade.[3]
Behind the scenes
Appearances
Notes and references