The Viaduct Courtyard[1] (also known as the Entrance Courtyard) is a quadrangle in Hogwarts Castle located in front of the Viaduct. A popular hang-out spot for students of all Houses, this courtyard is where some students spend their spare time playing Gobstones.[2]
Description
A covered stone cloister with an open colonnade runs around it, and two checkpoint towers flank its entryway via the Viaduct. There is a stone walkway leading from this courtyard into The Quad, and into the Viaduct Entrance. The courtyard is partially paved, in a cross pattern.[3]
History
In 1927, Albus Dumbledore walked through the courtyard when Newt Scamander and his allies travelled to Hogwarts to meet with him.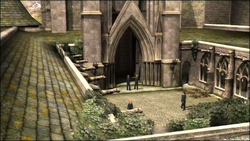 Hogwarts students watched from the courtyard the Beauxbatons Academy of Magic carriage and the Durmstrang Institute ship arrived at Hogwarts for the Triwizard Tournament.
At the end of the tournament students from all three schools socialised in the courtyard before the Beauxbatons and Durmstrang departed.
Dolores Umbridge attempted to sack Sybill Trelawney. Matthew Kettletoft could often be found playing Gobstones in the courtyard.
On 1 September, 1997, Hogwarts students marched through this Courtyard under the supervision of Death Eaters Alecto and Amycus Carrow and Headmaster Severus Snape as they were led into the Castle.
During the Battle of Hogwarts, the courtyard was heavily damaged.
Behind the scenes
Appearances
Notes and references
↑ Mentioned as such in the Deathly Hallows: Part 2 game files.