"There are plenty of eye-witness accounts. Just because you're so narrow-minded you need to have everything shoved under your nose before you–"

This article contains a list of appearances, but currently has few or no notes and references. Please help the Harry Potter Wiki by adding notes and/or references to bring this article to a higher standard of quality.
The Viaduct Entrance is a large vestibule at Hogwarts Castle, located at one end of the Long Gallery. It is a large entrance room — although it is not the main entrance hall — and it has a very high ceiling and windows, a large stone staircase leading to the first floor via the Tapestry Corridor, students' lockers, and the Hogwarts' crest on the floor. Large wooden double doors open to the exterior, while an archway leads down a spiral staircase into the Dungeon Corridor. A list of students could also be found in this room, as could a portrait of Google Stump, in the 1995-1996 school year. The Terrace is found outside the building.
History
During the Battle of Hogwarts, on the morning of 2 May, 1998, there was fighting in this hall. Fire roared inside, and most of the windows were broken. By dawn, most of the ceiling had caved in.
Behind the scenes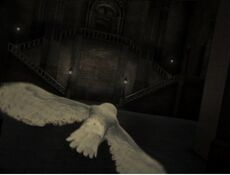 Appearances
Notes and references