"Is this all real? Or has this been happening inside my head?"

The topic of this article is of a real-life subject that has been mentioned "in-universe" in a canon source. The Harry Potter Wiki is written from the perspective that all information presented in canon is true (e.g., Hogwarts really exists), and, as such, details contained in this article may differ from real world facts.
The violin is a string instrument, usually with four strings tuned in perfect fifths. It is the smallest, highest-pitched member of the violin family of string instruments, which includes the viola and cello.
During their performance of Something Wicked This Way Comes at the 1993 Start-of-Term Feast, a member of the Hogwarts orchestra played the violin.[1] Violins were also played in the 1994 Yule Ball of the Triwizard Tournament.[2]
Emanuel Hurwitz, a British violinist, gave a performance of Mozart's Sinfonia Concertanti with his wife Kay, a violist, and the Dollis Chamber Ensemble on Sunday 7 May in a year prior to 1997.[3]
Behind the scenes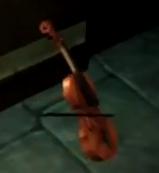 Appearances
Notes and references
*Disclosure: Some of the links above are affiliate links, meaning, at no additional cost to you, Fandom will earn a commission if you click through and make a purchase. Community content is available under
CC-BY-SA
unless otherwise noted.