The
Wand Permit Office
was a subdivision of the
Department of Magical Law Enforcement
at the
Magical Congress of the United States of America
.
[1]
The office is charged with the duty of issuing, verifying and maintaining registry over
wand permits
for witches and wizards in the
United States of America
.
Description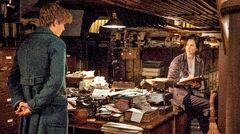 It is not an particularly high-regarded, as it was noted to be only slightly larger than a cupboard and apparently understaffed, judging by the piles of unopened wand applications filling the place. Located in a dingy corner of a cramped, airless, windowless basement room in the bowels of the wizarding congressional headquarters, it was said to be a painful contrast to the floors above and gave the impression of being the sort of place where "utter no-hopers" worked.
History
In 1926, Porpentina Goldstein was demoted to Federal Wand Permit Officer[2] and Queenie Goldstein had a menial desk job in this office.[3] Mr Abernathy was a supervisor of this department.[4]
Appearances
Notes and references