Wiki Targeted (Entertainment)
Play Sound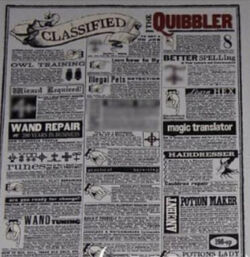 "WAND REPAIR: 200 YEARS IN BUSINESS"
— Advert on The Quibbler
Wand Repair was a wizarding business specialising in the repair of damaged wands. It was founded in around 1796.[1]
Behind the scenes
Wand repair services are presumably limited to minor damage. The series firmly establishes that wands eventually reach a point where they are beyond repair. An example is Ron Weasley's first wand after it was damaged when Ron and Harry Potter crashed the Weasley family's Flying Ford Anglia into the Hogwarts Whomping Willow in 1992.
Broken wands generally cannot be repaired; the only known way is for the wand to be magically restored by the Elder Wand.
Appearances
Notes and references