Jurassic World: Dominion Dominates Fandom Wikis - The Loop
Play Sound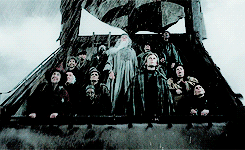 Wandless magic[1] was the performance of magic without the use of a wand. Such magic was often difficult to perform, and could have unexpected or volatile results if not done properly. Usually, witches and wizards accustomed to using wands could only reliably perform wandless magic if they possessed great skill.[1] However, within regions of the wizarding world that historically did not use wands, wandless magic was considered the norm, and using one was optional.[1][2]
Nature and practice
Wands were used by witches and wizards to channel their magic, making their spells more accurate and potent.[1] Within cultures where wands were ubiquitous, only the most powerful and disciplined wizards and witches could perform wandless magic reliably.[1] Transfiguration and charms were particularly difficult to perform without a wand.[1]
However, the wand was a European invention, and some cultures did not traditionally rely upon such tools for performing magic.[1][2] Native Americans had their own practices that predated European colonisation, and did not require a wand;[1] African witches and wizards only adopted the wand in the 20th century, and even in the modern era, wands were not necessary for many of their practices.[2]
Wandless magic was not officially taught at Hogwarts School of Witchcraft and Wizardry; however, books on the subject were found in the Restricted Section of the Hogwarts Library.[3]
Wandless magic could also be performed nonverbally, but this increased the level of difficulty to the point that only practitioners of exceptional skill could perform more than the most basic magic. Albus Dumbledore, generally considered the greatest wizard of all time, was known for performing magic in this manner.[4] Quirinus Quirrell whilst possessed by Lord Voldemort was also capable of both nonverbal and wandless spells, as shown with the Incarcerous Spell which he used on Harry Potter in the Underground Chambers.[4]
Gellert Grindelwald, an infamous Dark Wizard active in the global wizarding war, was also extremely skilled with wandless magic, having performed it numerous times without difficulty during the conflict.[5][6]
Underage magic
Wandless spells were often used in cases of underage magic, in which children under the age of eleven, who had no wands, sometimes used magic. This was known as Accidental Wandless Magic. On most of these occasions, the children had no control over their abilities, and would unintentionally use magic when upset or in danger.
Some children, however, exerted some control over their magic, but they were untrained in proper spells. For example, Tom Riddle was able to hurt people and influence animals before he even knew of the existence of the wizarding world,[7] and Lily Evans was able to use magic to stop herself falling as fast as normal and also to accelerate the growth of a flower.[8]
On 2 August 1995, Harry Potter unknowingly performed underage wandless magic in an alleyway in Little Whinging due to the presence of Dementors, with Harry speaking the incantation for the Wand-Lighting Charm aloud (Lumos) despite not holding his wand which he had dropped in the darkness, which instantly illuminated his wand, allowing him to find it.[9]
Known practitioners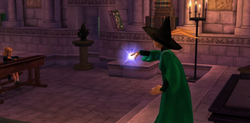 The following wizards and witches were known to have been able to perform spells intentionally without use of a wand:
Possible practitioners
The following wizards and witches may or may not have intentionally performed spells without use of a wand:
Non-human wandless magic
Main articles: House-elf magic and Goblin magic
Elves and goblins were able to perform magic without wands.[30] Goblins sometimes referred to wizards and witches as "wand bearers" and humans' refusal to share wand knowledge with goblins was a source of great ill-feeling between the two species.[31]
Behind the scenes
Appearances
Notes and references
↑ 1.0 1.1 1.2 1.3 1.4 1.5 1.6 1.7 "History of Magic in North America: Fourteenth Century – Seventeenth Century" from Pottermore
↑ 2.0 2.1 2.2 2.3 "Writing by J. K. Rowling: "Uagadou" at Wizarding World" from Pottermore
↑ 3.0 3.1 3.2 3.3 3.4 Harry Potter: Hogwarts Mystery, Year 7, Chapter 2 (More Questions Than Answers)
↑ 4.0 4.1 4.2 4.3 Harry Potter and the Philosopher's Stone, Chapter 17 (The Man with Two Faces)
↑ 7.0 7.1 7.2 Harry Potter and the Half-Blood Prince, Chapter 13 (The Secret Riddle)
↑ Harry Potter and the Deathly Hallows, Chapter 33 (The Prince's Tale)
↑ 9.0 9.1 Harry Potter and the Order of the Phoenix, Chapter 1 (Dudley Demented)
↑ Harry Potter and the Prisoner of Azkaban (film) - Chapter 16 (Grim Defeat)
↑ Harry Potter and the Half-Blood Prince, Chapter 26 (The Cave)
↑ Original script of the film adaptation of Harry Potter and the Half-Blood Prince
↑ Harry Potter and the Chamber of Secrets (video game) - NGC version (see this image)
↑ Original script of the film adaptation of Harry Potter and the Prisoner of Azkaban
↑ Harry Potter and the Half-Blood Prince (film) - Chapter 10 (Hermione's Helping Hand)
↑ Harry Potter: Hogwarts Mystery, Year 2, "Hosting the Beauxbatons" Achievement
↑ Harry Potter: Hogwarts Mystery, Year 7, Chapter 37 (Lockdown)
↑ Harry Potter and the Prisoner of Azkaban (video game) - Console version (see this image)
↑ Harry Potter and the Chamber of Secrets (video game) - NCG version (see this image)
↑ Harry Potter and the Prisoner of Azkaban, Chapter 5 (The Dementor)
↑ Harry Potter and the Philosopher's Stone, Chapter 11 (Quidditch)
↑ Harry Potter and the Prisoner of Azkaban, Chapter 3 (The Knight Bus)
↑ Harry Potter and the Prisoner of Azkaban (film) - Chapter 4 (The Leaky Cauldron)
↑ 28.0 28.1 The Tales of Beedle the Bard - "The Fountain of Fair Fortune"
↑ 29.0 29.1 Harry Potter and the Half-Blood Prince (film) - Chapter 6 (That's For My Father)
↑ Harry Potter and the Deathly Hallows, Chapter 23 (Malfoy Manor)
↑ Harry Potter and the Deathly Hallows, Chapter 25 (Shell Cottage)