Wiki Targeted (Entertainment)
Play Sound
Warning!

At least some content in this article is derived from information featured in Harry Potter: Hogwarts Mystery. Spoilers will be present within the article.
"Today, we will be brewing the potent poison, Weedosoros. Take great care to keep this concoction away from your hands and mouth. If you do swallow some of this poison, immediately proceed to the Hospital Wing. The rest of us shouldn't have to be bothered with your convulsing."
Weedosoros is a potion and a highly potent poison. The exact effects of this poison are unknown, although it is possible that it causes convulsion,[1] along with other unpleasant bodily side effects. The ingredients of this potion are also unknown.
History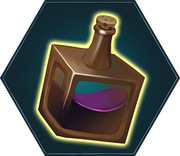 During the 1987–1988 school year at Hogwarts School of Witchcraft and Wizardry, Professor Severus Snape taught his fourth-years how to concoct this particular brew in Potions class.[1]
In 1991, Snape included one bottle of this poison in his Potion riddle, one of the several obstacles to protect the Philosopher's Stone, located in the Underground Chambers.[3][2]
Etymology
The name of this poison may be derived from the phrase "weed of sorrows", which may be the name of the main ingredient of this potion. Judging by that name, it may be speculated that upon consumption the poison may induce similar effects to the Drink of Despair.
Appearances
Notes and references