Jurassic World: Dominion Dominates Fandom Wikis - The Loop
Play Sound
"Non-magic people (more commonly known as Muggles) were particularly afraid of magic in medieval times, but not very good at recognising it. On the rare occasion that they did catch a real witch or wizard, burning had no effect whatsoever. The witch or wizard would perform a basic Flame Freezing Charm and then pretend to shriek with pain while enjoying a gentle, tickling sensation. Indeed, Wendelin the Weird enjoyed being burned so much that she allowed herself to be caught no less than forty-seven times in various disguises."
Wendelin the Weird (fl. c. 14th century)[1] was an eccentric British medieval witch who was famous for being burnt at the stake no less than forty-seven times in various disguises.[1]
Biography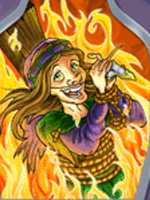 During the Middle Ages, Muggle witch-hunts were at their peak. Stemming from the desire to experience a pleasant tickling sensation from the Flame-Freezing Charm, Wendelin took upon herself to be captured no less than forty-seven times in various disguises to be repeatedly burned at the stake. With the use of the Flame-Freezing Charm, the pyres were rendered harmless, creating only a gentle tickling sensation which Wendelin enjoyed immensely.[3][2][4][1]
During the 1992-1993 school year, a Portrait of Wendelin was hung in the Secret Hallway. Harry Potter once traded a rare misprint of a Wendelin the Weird Chocolate Frog Card to this portrait in exchange for a baby spider.[2]
Wendelin the Weird was mentioned when Harry Potter had to write an essay for History of Magic in his third year, the premise for which was that "Witch Burning in the Fourteenth Century Was Completely Pointless — discuss"[1]
Magical abilities and skills
Charms: Wendelin was very capable of casting the Flame-Freezing Charm to render fire harmless, which she cast frequently whenever she was burned at the stake, for a warm and tickling sensation every time, no less than forty seven times.[1]
Behind the scenes
According to Harry's copy of A History of Magic in Harry Potter and the Prisoner of Azkaban, Wendelin was burned at least forty-seven times. However, according to her card in the video games, it states she was only burned fourteen times. It could be possible that all the other times, she was disguised and not credited with these "accomplishments". The Timeline of the Wizarding World given on Pottermore reinforces that Wendelin was burned exactly forty-seven times.
Appearances
Notes and references