Spider-Man: No Way Home Trailer Dropped - The Loop
Play Sound
"Are you a wizard or not?"

The title of this article is conjectural. Although it is based on canonical information, the actual name is a conjecture and may be supplanted at any time by additional information released from canonical sources. If this occurs, please move this page to the appropriate title.
The West Tower battlements were located on the topmost floor of the West Tower at Hogwarts Castle.[1]
History
In 1994, after rescuing Sirius Black from Filius Flitwick's office, Harry Potter and Hermione Granger left for the Hospital Wing via a door at the battlements. They descended one staircase onto a corridor, then two other staircases, and then were able to get to the hospital just before Albus Dumbledore magically sealed it.[1]
Behind the scenes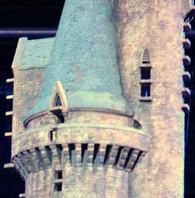 In the films and games, the battlements of the West Tower are a small area just beneath the roof; there is, however, one more floor above them, accessed via a turret.
In the film adaptation of Harry Potter and the Prisoner of Azkaban, the action that took place in these battlements is, instead, moved to the Clock Tower Courtyard. Additionally, Sirius Black was not imprisoned on Filius Flitwick's office in the West Tower, like in the novel, instead he was in the topmost cell of the Dark Tower.
Appearances
Notes and references