"Ron gasped, staring through the windshield, and Harry looked around just in time to see a branch as thick as a python smash into it. The tree they had hit was attacking them. Its trunk was bent almost double, and its gnarled boughs were pummelling every inch of the car it could reach."
— Ron Weasley and Harry Potter having crashed the Flying Ford Anglia into the Hogwarts Whomping Willow
A Whomping Willow was a very valuable, very violent sentient species of magical plant.[1]
Description
Whomping Willows would attack anyone and anything that came within range of its branches.[1] A deciduous plant, its limbs functioned as arms,[1] and any damage to them must be treated in much the same way.[4]
Known Whomping Willows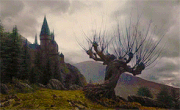 The most famous Whomping Willow was the one planted on the grounds of Hogwarts School of Witchcraft and Wizardry.[1] The Whomping Willow was planted around the year 1971 to cover up the opening of a secret passage leading from the Hogwarts grounds to the Shrieking Shack in the village of Hogsmeade.[5]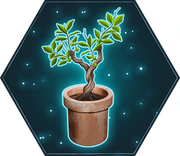 It had a small knot near the base. Pressing the knot caused the tree to become immobilised.[6] This allowed Remus Lupin to travel unnoticed to and from the Shrieking Shack, where he was able to undergo his transformation into a werewolf in privacy. To access the tunnel, Lupin's friend Peter Pettigrew would transform into his rat animagus form, becoming small enough to easily avoid the willow's branches and press the knot.[7]
The willow's movements afterwards prevented Lupin from leaving while in his feral state.[7]
Students would challenge each other to get as close as possible to the tree's trunk until the tree nearly took the eye of student Davey Gudgeon.[5]
During the 1989–1990 school year at Hogwarts, Professor Pomona Sprout taught her sixth year Herbology students about how to care for young Whomping Willows.[3]
Behind the scenes
Translations
Albanian: Shelgu Godites ("Willow that hits")
Bulgarian: Плашещата върба

(Plasheshtata v"rba)

("The frightful willow", "The willow that scares")
Catalan: Pi Cabaralla (Pi "pine tree"; Picabaralla "fight" or "quarrel")
Chinese (Simplified): 打人柳

(Da ren liu)

("Willow that hits people")
Chinese (Traditional): 渾拚柳
Croatian: Napadačka vrba (napad "attack"; vrba "willow")
Czech: Vrba mlátička (Vrba mlátivá in formal Czech) (Beating, more than whomping)
Danish: Slagpoppel (slag "hit"; poppel "poplar")
Dutch: Beukwilg ("Batterwillow", though beuk is a pun as it can also be translated to beech)
Estonian: Peksja Paju
Faroese: Pílurin Armalangi
Finnish: Tällipaju
French: Saule Cogneur ("Knocker-Willow")
German: Peitschende Weide ("Whipping Willow")
Greek, Modern: Ιτιά Που Δέρνει (it was mistakenly translated as "Ιτιά που Kλαίει" ("the Willow that cries,") in the 7th book. The translator might have confused it with "Μυρτιά που κλαίει" ("Myrtle that cries," Moaning Myrtle)
Hebrew: הערבה המפליקה ("The Flicking Willow")
Hungarian: fúriafűz ("Fury Willow"; 'fury' as in the Furies)
Icelandic: eikin armalanga
Indonesian: Dedalu Perkasa
Italian: Platano picchiatore ("Whomping plane tree")
Japanese: 暴れ柳

(Abare Yanagi)

(lit. "Violent Willow")
Norwegian: Prylepilen
Latvian: Vālējošais vītols
Persian: بید کوبنده ("whomping willow")
Polish: wierzba bijąca (pun on wierzba płacząca "weeping willow")
Portuguese: Salgueiro Zurzidor ("The willow that whips")
Portuguese (Brazil): Salgueiro Lutador ("Fighter willow")
Romanian: Salcia Bătăuşă ("The Fighter Willow")
Russian: Гремучая Ива
Serbian: Млатарајућа Врба

(Mlatarajuća Vrba)

("The thrashing Willow")
Slovak: Zúrivá vŕba
Slovenian: Vrba Mesarica
Spanish: El sauce boxeador ("The boxing willow")
Swedish: Piskande pilträdet ("Whipping willow")
Turkish: Şamarcı Söğüt
Ukrainian: Войовнича Верба

(Voyovnycha Verba)

("Bellicose Willow")
Vietnamese: (Cây) liễu roi ("Whip-willow")
Appearances
Notes and references
↑ 1.0 1.1 1.2 1.3 1.4 1.5 1.6 1.7 1.8 1.9 Harry Potter and the Chamber of Secrets, Chapter 5 (The Whomping Willow)
↑ 3.0 3.1 Harry Potter: Hogwarts Mystery, Year 6, Chapter 24 (Return to the Forest) - Herbology Lesson "Whomping Willow"
↑ Harry Potter and the Chamber of Secrets, Chapter 6 (Gilderoy Lockhart)
↑ 5.0 5.1 Harry Potter and the Prisoner of Azkaban, Chapter 10 (The Marauder's Map)
↑ Harry Potter and the Prisoner of Azkaban, Chapter 17 (Cat, Rat and Dog)
↑ 7.0 7.1 Harry Potter and the Prisoner of Azkaban, Chapter 18 (Moony, Wormtail, Padfoot and Prongs)
*Disclosure: Some of the links above are affiliate links, meaning, at no additional cost to you, Fandom will earn a commission if you click through and make a purchase. Community content is available under
CC-BY-SA
unless otherwise noted.