The Whomping Willow is a very valuable, very violent sentient species of magical plant.[1]
Description
Whomping Willows will attack anyone and anything that comes within range of its branches. A deciduous plant, its limbs function as arms and any damage to them must be treated in much the same way.[1]
Known Whomping Willows
The most famous Whomping Willow is the one planted on the grounds of Hogwarts School of Witchcraft and Wizardry.[1] The Whomping Willow was planted around the year 1971 to disguise the opening of a secret passage leading from the Hogwarts grounds to the Shrieking Shack in the village of Hogsmeade.[3]
It had a small knot near the base. Pressing the knot caused the tree to become immobilised. This allowed Remus Lupin to travel unnoticed to and from the Shrieking Shack, where he was able to undergo his transformation into a werewolf in privacy.[4]
This same tree also nearly took the eye of student Davey Gudgeon.[3]
Appearances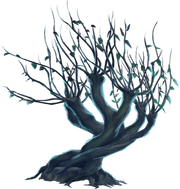 Notes and references

This article about a plant is a stub. You can help by expanding it.
Community content is available under
CC-BY-SA
unless otherwise noted.