Jurassic World: Dominion Dominates Fandom Wikis - The Loop
Play Sound
Warning!

At least some content in this article is derived from information featured in Harry Potter: Hogwarts Mystery. Spoilers will be present within the article.
"Eyes open. Today we will be learning to brew Wideye Potion. Wideye Potion has many practical uses, so long as you do not abuse it. Come and see how it is made."
— Snape introducing this potion to students
The Wideye Potion, also known as the Awakening Potion, was a potion which prevented the drinker from falling asleep and could also be used to awaken someone from drugging or concussion.[1] It acted as an antidote for the Draught of Living Death.[3] Its recipe could be found in Magical Drafts and Potions.[1]
History
During the 1986–1987 school year at Hogwarts School of Witchcraft and Wizardry, Professor Severus Snape taught his third-years how to concoct this particular brew in Potions class.[2]
During the 1988–1989 school year, Jacob's sibling, with Penny Haywood looking on, brewed this concoction in the Artefact Room, so as to use it to stay up late cramming some Potions revision as well as to practice brewing this potion for their Ordinary Wizarding Levels that year.[4]

Penny Haywood again brewed this potion during this school year, in the Sphinx Clubhouse with friends, in order to awaken an unconscious Jae Kim in the Hospital Wing, who had been injured by Ismelda Murk in the final round of the Tournament of Clubs.[5]
Brewing instructions
Step one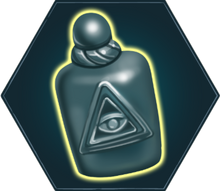 Add 6 Snake fangs to the mortar
Add 4 measures of Standard Ingredient to the mortar
Add 6 Dried Billywig Stings to your cauldron
Heat on a medium temperature for 30 seconds
Finally crush the ingredients that are on the mortar
Add 4 measures of the crushed ingredients to your cauldron
Stir 3 times, clockwise
Wave your wand
Leave to brew and return in 8 hours (Copper), 14 hours (Brass), or 23 hours (Pewter).[1]
Step two
Add 2 sprigs of Wolfsbane to your cauldron
Stir 3 times, anti-clockwise
Wave your wand to complete the potion.[1]
Brew times
Behind the scenes
This potion was created for the Beta testing of Harry Potter: Wizards Unite, but it along with other potions and ingredients did not make the final cut and were not released in the game.
Appearances
Notes and references
See also