Jurassic World: Dominion Dominates Fandom Wikis - The Loop
Play Sound
"Today you will learn to brew the Wiggenweld Potion. It is a powerful healing potion that can be used to heal injuries, or reverse the effects of a Sleeping Draught."
— Professor Severus Snape describing this potion to a first-year Potions class
The Wiggenweld Potion was a healing potion with the power to cure injuries,[1] and was the antidote to the Sleeping Draught[1] and the Draught of Living Death.[2]
History
A wizard prince once used this potion to awaken an unidentified princess who had been given the Draught of Living Death by the hag Leticia Somnolens. The prince first smeared some of the potion on his lips and then kissed the princess, awakening her from her slumber.[2]
During the 1984–1985 school year at Hogwarts School of Witchcraft and Wizardry, Professor Severus Snape taught his first-years how to concoct this particular brew in Potions class, with Jacob's sibling managing to brew a concoction that Rowan Khanna deemed "perfect". Snape, upon hearing this, approached Jacob's sibling and refuted Rowan's assessment by judging the former's concoction to be merely "passable", and, in compliance with his characteristic bias towards students of his own House, openly acknowledged Merula Snyde's concoction to be "flawless".[1]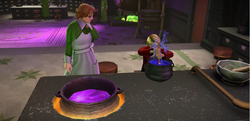 During the 1990–1991 school year, Jacob's sibling brewed some Wiggenweld Potion in the Alchemy Room in St Mungo's under Healer Miriam Strout supervision, as part of their seventh year work experience programme at the hospital.[7] At another time in the hospital, Strout had student apprentice Chiara Lobosca help her brew more of this potion in the Alchemy Room, when Jacob's sibling interrupted them.[11]
During the 1995–1996 school year, Zacharias Smith's homework involved the Wiggendweld Potion.[6]
In 1997, this was a potion made by Harry Potter in his sixth year at the Potions Club, that was consumed by him to give himself a significant stamina boost before going off on a highly dangerous mission with Albus Dumbledore.[3]
Brewing instructions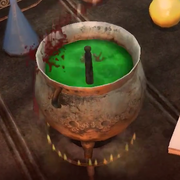 The instructions for brewing the Wiggenweld Potion are thus:
Add salamander blood until the potion turns red.
Stir until the potion turns orange.
Add more salamander blood, this time until it turns yellow.
Stir until the potion turns green.
Add more salamander blood, until the potion turns turquoise.
Heat until it turns indigo.
Add more salamander blood until the potion turns pink.
Heat until the potion turns red.
Add five lionfish spines.
Heat until the potion turns yellow.
Add five more lionfish spines.
Add flobberworm mucus, until the potion turns purple.
Stir until it turns red.
Add more flobberworm mucus, this time until it turns orange.
Stir till it turns yellow.
Add Honey water until it turns back to a turquoise colour.
Add another few drops of boom berry juice.
Stir the potion again, then let it simmer for thirty minutes.
Take the potion away from the heat and allow it to cool, when it is cool its ready for use.[12]
See also
Etymology
"Wiggentree" or "Wiggen Tree" is the name which in Great Britain is given to the Mountain Ash (a species of the genus Sorbus) because, it has traditionally been used as an anti-witching device.
"Wiggen" from the old Breton means "strength", "bravery" or still "courage". As for "weld", it is an English word which means "join together by heating to the point of melting".
Thus, "Wiggenweld Potion" would mean literally "Welder Strength" or "Who Welds the Strength Potion".
Behind the scenes
Appearances
Notes and references