Jurassic World: Dominion Dominates Fandom Wikis - The Loop
Play Sound
"Some of you will benefit from today's assignment: Wit-Sharpening Potion. Perhaps you should begin immediately."
— Severus Snape's low expectations of his class
The Wit-Sharpening Potion was a potion which allowed the drinker to think more clearly.[3] Due to this, it acted as an antidote to the Confundus Charm.[1]
History
1980s
During the 1986–1987 school year, Merula Snyde stole Penny Haywood's Wit-Sharpening Potion and presented it as her own before Professors Dumbledore and Snape, both of whom deemed it an exceptional concoction and felt that Merula deserved special recognition.
Penny, however, enlisted Jacob's sibling help to expose Merula's fraudulency and reclaim the ownership of her Wit-Sharpening Potion, which ultimately resulted in the successful revelation of Merula's transgression and Penny being duly awarded her special recognition.[7]
During the 1988–1989 school year at Hogwarts School of Witchcraft and Wizardry, Professor Severus Snape taught his fifth-year Potions students how to concoct this particular brew, in preparation for their Ordinary Wizarding Levels that year.[3]
1990s
"Well, I think I had better separate the three of you, so you can keep your minds on your potions rather than on your tangled love lives."
— Snape goading the trio as they made Wit-Sharpening Potion
During the 1994–1995 school year, Severus Snape taught his fourth-year Potions students to make this potion shortly after the second task of the Triwizard Tournament in 1995. While working, Harry Potter, Ron Weasley, and Hermione Granger discussed an article by Rita Skeeter that had recently been published in Witch Weekly. Snape found the trio reading the magazine, and, much to their humiliation, read it aloud to the entire class (the article falsely accused Hermione of toying with the hearts of both Viktor Krum and Harry).[6]
Snape split the group up, telling them to concentrate on their potions, but Harry found it difficult to do so, as Snape continued to goad him personally. The class was further interrupted by the entrance of Igor Karkaroff. Harry purposely spilled his armadillo bile so that he could linger after the class was done and try to find out what Karkaroff wanted to tell Snape.[6]
During the Calamity in the late 2010s and early 2020s, this potion was brewed heavily by members of the Statute of Secrecy Task Force, who used it help them combat enemies in Fortresses.[2]
Brewing instructions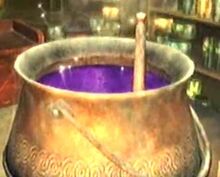 Mix in Ginger Root until lime green.
Mix Armadillo bile until blue.
Mix Ground Scarab Beetles until red.
Remix Armadillo Bile until red liquid is yellow. (Not dark green)
Remix Ginger Roots until brew is lime green.
Mix Armadillo Bile until the potion is purple.[1]
Behind the scenes
Use knife to cut off two pieces of ginger root and add to cauldron. Potion should turn from blue to green.
Add armadillo bile until potion turns blue.
Grind scarab beetles in pestle, sprinkle in cauldron until potion turns red.
Add more armadillo bile until potion turns yellow.
Chop four more pieces of ginger root and add to cauldron. Potion should turn green.
Stir clockwise until potion turns yellow.[8]
In each video game this potion appears in, this potion is a different colour. Therefore, it is unclear as to what this potion's canonical physical appearance is, or it is possible that this potion's colour depends on its brewing procedure and/or ingredients used.
The Wit-Sharpening Potion can be brewed in Harry Potter: Magic Awakened and is used to renew the opportunity to duplicate a card of the opponent after winning three duelling matches.
Appearances
Notes and references