"Fairly hazardous, quite deadly, yes... Standards haven't slipped, I'm pleased to see. It's just as perilous a potioneering prize as ever."
—Zygmunt Budge comments on the modern Wizarding Schools Potions Championship
The Wizarding Schools Potions Championship[1] was a competition held in a certain enchanted garden. It challenged up-and-coming potioneers from different wizarding schools to prove their Potion-making skills by overcoming various challenges in the garden by brewing various potions. The grand prize was a Gold Cauldron and the privilege to display their potioneering talents before the assembled crowd.
History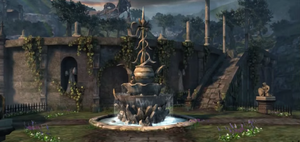 The Wizarding Schools Potions Championship has been held every seven years since 1407, in honour of Quintia McQuoid, a memorable Potioneer who untimely lost her life to an improperly-brewed cure for ague.[2]
One winner of the event was a Hogwarts School of Witchcraft and Wizardry student, who used Zygmunt Budge's Book of Potions to assist them in the various tasks.[3] Others who competed against this potioneer were a Russian Koldovstoretz student, a Japanese Mahoutokoro School of Magic student, and an African Uagadou School of Magic student.
Appearances
Notes and references
Community content is available under
CC-BY-SA
unless otherwise noted.